How It Works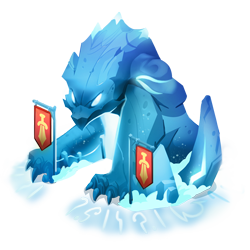 Just North of the Main Island the Battlegrounds await Players level 5 and above! Look for the Fireworks!

In the Battlegrounds you will face several rounds with increasing difficulty. At the end of each set of rounds you can win special animals. These Animals are only available via the Battlegrounds. Once you vanquish this first round of battles, other challengers will soon await you.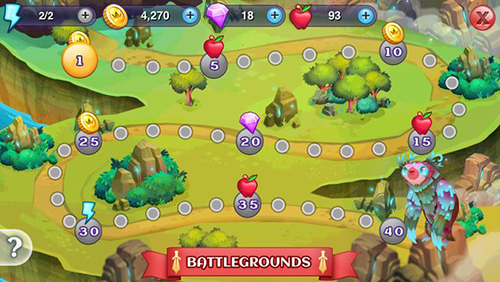 To go into a battle, tap on a Round to bring up the 'Select Your Animal' screen, then select an Animal and head into Battle! Remember each Battle will cost Stamina
. Your Stamina
will recover over time, but you can also win it as a reward for some battles. While in Battle, each Animal has one or two basic attacks available, these are dependent on the types the Animal is. There is also an Ultimate Attack, causing massive damage, though it costs 12

. This is for players who want to sway the victory to their side! During the Battle each attack has a chance of being at 1 of 4 power levels: Weak, Normal, Strong, and Critical.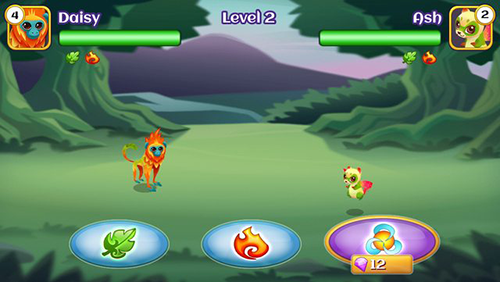 Winning a Battle will give rewards, such as Stamina
, Gems

, Food

, and Coins

. Every 5 Rounds will have a Special Round where a specific reward will be in a bonus amount!

Boss Battles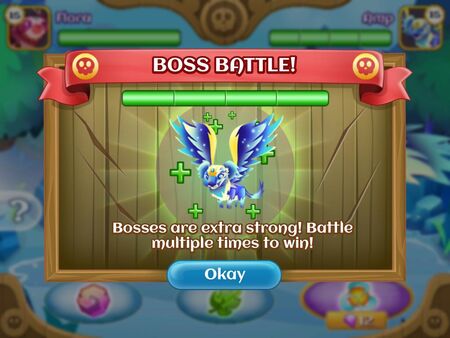 Once you get to Region 5 of the Battlegrounds, the Thorilla region, you will encounter a new type of battle. Every 10th round in this region is a Boss Battle. Bosses are extra strong and may take multiple rounds to win.

Don't worry if your Animal loses a Battle, that Animal will just need to rest (no additional building required!) for a period of time before it can jump back into the fray!

The level of opponent for each round is random and so varies from player to player.
---
Battle Type Advantage Table
Animal Type Battle Advantages:
NOTE: This list is player gathered and still in progress. There may be errors!
As S8/Teamlava often make gameplay changes, type advantages may be altered from those shown in this list. We try our best to keep up with these changes!
Enemy Type
USE
AVOID Using
Arcane

(a.k.a. Magic)
Nature, Water
Dark, Earth, Icecream, Treasure
Autumn


Fire, Icecream, Legendary, Space
Music, Spring, Water
Birthstone

Fire, Rainbow?, Water?, Zodiac?
Dark, Earth, Icecream, Legendary, Nature, Tree
Christmas

Skull
Spring, Treasure, Water
Dark

Birthstone, Fire, Magic, Service, Treasure
Legendary, Rainbow, Tree, Zodiac
Earth

Legendary, Magic, Nature
Electric, Fire, Rainbow, Skull, Space
Egypt

Nature, Water
Icecream, Legendary?, Rainbow, Treasure
Electric

Earth, Music, Service, Zodiac
Lucky, Valentines, Water
Fire

Earth, Lucky, Rainbow, Service, Water, Zodiac
Autumn, Birthstone, Dark, Icecream, Nature
Halloween

Water
Nature, Tree
Icecream

Birthstone, Egypt, Fire, Magic
Autumn
Legendary

(a.k.a. Gemstone)
Dark, Egypt?, Skull, Treasure, Tree
Autumn, Earth, Nature
Lucky

Electric, Skull
Fire, Rainbow
Music

Autumn, Water
Electric, Service
Nature

Birthstone, Fire, Halloween, Legendary, Rainbow, Spring
Earth, Egypt, Magic, Treasure
Rainbow

Dark, Earth, Egypt, Lucky
Birthstone?, Fire, Nature, Space, Water
Service

Music
Dark, Electric, Fire
Skull

Earth, Valentines
Christmas, Legendary, Lucky, Treasure
Space

Earth, Rainbow
Autumn, Water
Spring

Autumn, Christmas
Nature
Treasure

Christmas, Egypt, Nature, Skull
Dark, Legendary
Tree

Birthstone, Dark, Halloween
Legendary
Valentines

Electric
Skull, Water
Water

Autumn, Christmas, Electric, Rainbow, Space, Valentines
Birthstone?, Egypt, Fire, Halloween, Magic, Music, Zodiac?
Zodiac

Dark, Water?
Birthstone?, Electric, Fire
---
The level of opponent for each round is random and so varies from player to player.
This list is still in progress
List of Battles for Each Region