***Expired***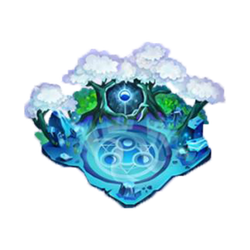 "

"Animals come here to bathe in the pure moonlight."

"



 

— Game Description 
Level Available:
17?
Leaderboard Event
Type:
Dark, Earth, Nature
Animal Capacity:
4
Buying Price:
400
Max Coins:
55,000
Build Time:
none
Sells for:
50,000
Exp Gained:
2,800
Notes
The Lunar Crater is obtainable:
1 During the Lunar Lights World Event:

By purchase at the Market.
2 During the Mining Mania Leaderboard Event:

Players received a Lunar Crater after collecting 4,500 Leaderboard Points .
Ad blocker interference detected!
Wikia is a free-to-use site that makes money from advertising. We have a modified experience for viewers using ad blockers

Wikia is not accessible if you've made further modifications. Remove the custom ad blocker rule(s) and the page will load as expected.